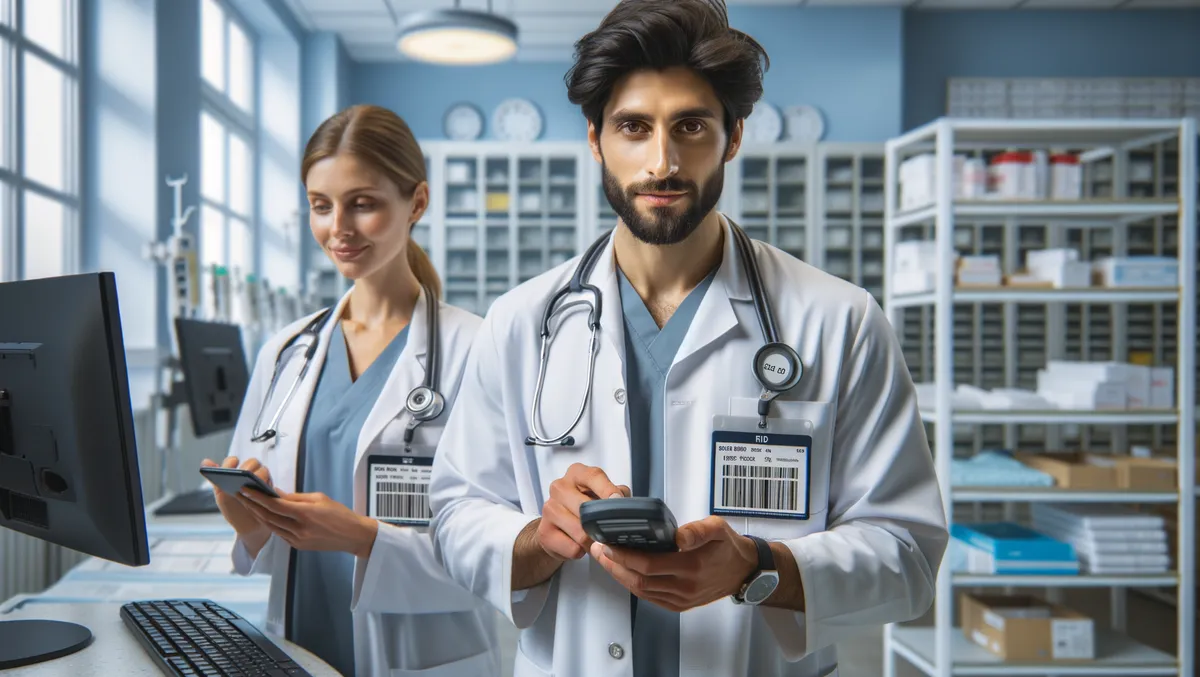 Hull NHS drastically cuts device search times with 'All-In-One Solution'
Sat, 18th Nov 2023
By Sean Mitchell, Publisher
Hull NHS has embraced an 'All-In-One Solution', merging inventory management and patient care digital records with real-time location tracking in partnership with The Barcode Warehouse. Employing RFID (Radio Frequency Identification) as part of their Scan4Safety journey, the Hull NHS team, under the guidance of Scan4Safety Programme Director Rachael Ellis, has managed to drastically reduce search times for assets to less than 43 seconds on average.
This effective time-saving measure not only means each staff member saves around 35.2 hours annually, but the equated total is an astounding 88,000 hours across 2,500 staff - equivalent to 2,346 weeks per year. Hull NHS already sees these time saved as one of the many returns on their investment in this technology.
Hull NHS's journey commenced when they embarked on their Scan4Safety programme with a mandate to improve patient safety and save money through digital technologies. The consistent scanning of barcodes - on everything from patient wristbands and medical equipment, to implantable devices and location - was enabled by the 2016 Scan4Safety Programme initiated by the Department of Health. With the intention of bolstering efficiency and safety within the NHS, the programme has demonstrated significant results.
Rachael Ellis, Scan4Safety Programme Director at Hull University Teaching Hospitals (HUTH) NHS Trust, said: "This approach allows us to follow the patient pathway in its entirety. We have gleaned data-rich insights that help improve patient safety, reduce waste and expenditure, and improve overall hospital efficiencies." This information can then be utilised to gain complete clarity on which equipment has been used on which patients, when it was used, where it was used, and by whom; all crucial information to improving efficiency and supporting contact tracing.
The introduction of RFID, in partnership with The Barcode Warehouse, has further enhanced Hull NHS's Scan4Safety system since its implementation in late 2021. This technology has provided a solution to more of the day-to-day operational challenges a hospital phase than the standalone system used previously.
Rachael Ellis further said: "This level of transparency is incredibly powerful to our clinical colleagues. Our new solution offers even more data transparency, with users able to view dashboards, reports, details about specific locations, specific products, specific storerooms, or even specific pieces of equipment - all at the touch of a button. We feel empowered to help our staff make excellent decisions!"
The "All-In-One Solution", combines RFID technology and the proven benefits of point-of-care barcode scanning. Simon Hemingway, Healthcare Director at The Barcode Warehouse, commented, "We're empowering healthcare workers to deliver the highest level of patient care and best possible patient experience."
An example of the efficiencies gained through the adoption of the system was the location of all sterile trays in less than six minutes. This has significantly reduced time spent locating medical equipment and considerably lessened the loss of equipment. The technology has further streamlined the process of pre-planned maintenance.
This project not only received an award from NHS England but was also honoured with producing the Global Digital Exemplar (GDE) blueprint on 'How to implement RFID & RTLS from planning to performing'. This blueprint is used with all the NHS Trust as the best practice guide.
Through the RFID Infrastructure now in place, HUTH is positioned to build on the use of this RFID technology and scan look at further innovation in live bed Management and patient tracking, for improved hospital flow in key departments such as the Emergency Department.